OUR TEAM
We love what we do and are committed to high quality workmanship with professional, attentive staff. Our goal is to make every customer experience and interaction the best it can be. We thrive on change and our people continually receive training and education so we can help you navigate the latest technology and provide the right solutions for your needs.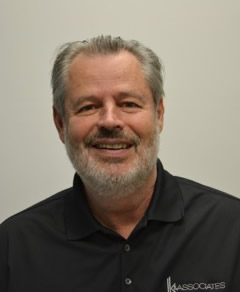 Lonnie is the founder of LK & Associates. Nowadays, Lonnie is semi-retired, but he is still involved with specialty accounts. Lonnie prides on his relationships with our clients and the manufacturers we have represented. "They are partners and friends. We know they rely upon us and that we share the same level of commitment and dedication."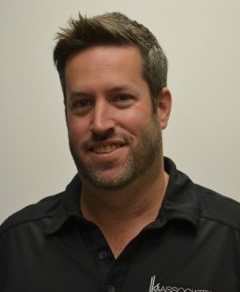 SETH KAPLAN
PRESIDENT
CEDIA OUTREACH INSTRUCTOR (COI)
Seth's whole life has been immersed in the consumer electronics business. As a 2nd generation rep principal he has over 20 years of experience with LK. Seth's primary focus is to continually adapt to change and partner with manufacturers of like mind who take care of our dealers and help them differentiate themselves. "Our dealers are our lifeline and we never forget that."
Additionally, Seth is is a certified CEDIA Outreach Instructor (COI) offering CEU-approved education to local design and build trade partners.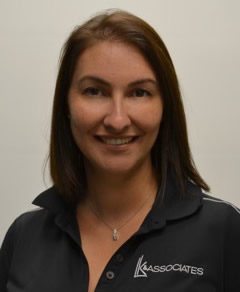 ANEL BAYON
VICE PRESIDENT - SALES
SOUTH FL
She began in the AV industry 16 years ago working for a CI dealer. In 2006 she was hired at LK & Associates transitioning from Inside Sales, Sales Manager and currently Vice President.  Her affable nature and outgoing personality are well suited to her profession that involves meeting and dealing with people related to the architecturally and design-oriented lines that we represent.
In 2020 Anel was the recipient of the highly regarded "CEDIA - Rep of Year"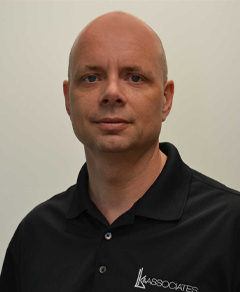 AJ STOCKTON
GENERAL MANAGER - SALES
SOUTH FL
AJ is a huge people-person and has spent 30 years in the Consumer Electronics industry. He has a passion to help clients understand what it is they are looking for or what they want to improve. When away from work, AJ is an avid road cyclist averaging 150 miles weekly and usually listening to business and American history books on the Audible app.
MARK GOLDSTEIN
SALES
SOUTH FL
Mark has a strong background in consumer electronics and sales. His previous experience includes 21 years at Sound Advice, a large Florida consumer electronics retailer, where he held various positions including store manager and regional sales manager, to corporate director of training. Mark has been a manufacturer rep for the past 12 years. He puts his experience and selling skills to work by helping our dealers understand the needs of their customers and how to sell the best products for the job.
MIGUEL MUNAR
TECHNICAL SUPPORT MANAGER LIGHTING, SHADING & DESIGN
SOUTH FL
Meet Miguel—an AV industry veteran since 2006. For the past four years, he's specialized in Architectural and Specialty lighting design and sales, along with expertise in lighting control systems. Passionate and innovative, Miguel transforms spaces into extraordinary experiences with his creative flair and technological know-how.
DAN HENCH
SALES
CENTRAL & NORTH FL
Dan brings 17 years of experience as a manufacturer rep in the custom install industry. He has built a solid foundation of dealer relationships in FL through his vast sales experience and technical knowledge. 
Dan holds a degree in electrical engineering, which supports his high level of product knowledge and an ability to understand the technical aspects of the lines we represent.
LUIS LUGO
SALES
CENTRAL & NORTH FL
Luis AKA "Paco" joined LK & Associates in 2012. After several years in the 12V industry, Luis transitioned to our CI side of the business. Recognizing the imperative value in customer service, he has formed a close client relationship with our dealers in Central and North FL, collaborating on multiple projects and supporting our lines.
JOSE ZAPATA
TECHNICAL SUPPORT MANAGER LIGHTING, SHADING & DESIGN
CENTRAL & NORTH FL
Jose brings over 13 years of lighting focused experience in the CI industry in sales and support roles on both the manufacturer and dealer side. Lighting and shading is one of the primary opportunities in our channel and we are exited to have Jose provide support our dealers in every way.
DANIEL URDANETA
OPERATIONS MANAGER
Daniel joins the LK team with 20 years of experience in operations, administration, management, finance, & engineering. He will head up streamlining the interior operations at LK & Associates and LK Stockroom. .
ALICIA ZVANUT
CUSTOMER SERVICE MANAGER
Alicia started in the A/V industry in 2004 working for a high-end CI dealer while specializing in purchasing, administrative assisting, & service management. Alicia's follow up is impecable! She loves the rep & distribution side best.
Becky is responsible for all aspects of customer service, supporting our dealers, vendors and sales team.
Becky's can-do attitude has earned her praise and accolades from our customers and our manufacturers. 
VANESSA SAYEN
MARKETING / SPECIFICATIONS
CEDIA OUTREACH INSTRUCTOR (COI)
Vanessa brings over 20 years in the Consumer Electronics industry as Manufacturer Technical Support and Marketing Director.  In 2015, Vanessa joined LK & Associates to aid in product specifications, marketing and manages dealer/manufacturer relationships. Her extensive knowledge of the industry and passion are critical components to our strategic management of communications and market growth.
Vanessa is a certified CEDIA Outreach Instructor (COI) offering CEU-approved education to local design and build trade partners.